10 Jan

2017: A Review

As 2017 rolled by, the Eastside Pathways partnership, supported by the small backbone staff, had some significant achievements.

Most notably, the partnership was strengthened by the joining of Lake Washington School District and the Lake Washington Schools Foundation as partners, thereby expanding the impact area to beyond Bellevue. Both organizations are deeply involved in the work and have a strong representative on different collaboratives, including Attendance, Mental Health and Wellbeing, and the Data Council.

As partnership continues to grow and as we explore expansion to other areas on the Eastside, we are positive that with the collective impact framework that guides our work there will be significant systems change as we move forward.

As 2017 drew to a close, the Eastside Pathways Board and the Partner Leadership Committee (PLC) met in December for a day-long strategic retreat to discuss the way ahead and goals for 2018. The year will see a significant contribution from the PLC in driving the mission of the partnership: "Uniting around common goals, measurements, and strategies to maximize every child's opportunity for a productive, fulfilling life."

The end of the year also brought some great news as five of our partner organizations were awarded $855,000 over 3 years as part of the Bests Start for Kids investments to expand quality after school and summer learning opportunities. The Bellevue School District in partnership with the Boys and Girls Club, City of Bellevue Parks & Community Services, KidsQuest Children's Museum, and the YMCA of Bellevue will utilize the funds to provide 195 unduplicated students experiencing homelessness with enriching summer and year-round programming. These five organizations are members of the Eastside Pathways Summer and Extended Learning collaborative that brings together organizations and helps them work collectively to develop new, and improve existing, summer and out of school time programming to meet the needs of families on the Eastside.

Read more about our achievements and impact in 2017.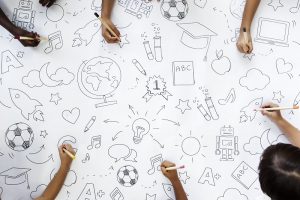 April
Eastside Pathways released its 2016 Community Report, which highlighted the equity gaps that continue to exist in the community. The message was clear: we need to do close these gaps; we need to work collectively to ensure that every child is given the same opportunities to succeed. Read more
The Bill Henningsgaard Fund for Children for 2017 was awarded to Sammamish Leads Program by Bellevue Schools Foundation. This year the focus area of the grant was 'Transitions – Grades 8 to 9 and 12 to College'. Read more
May
Summer Melt campaign by the Career Pathways collaborative brought together the Bellevue School District and Bellevue College to address the issue of kids who graduated from high school and indicated that they would be going to college but do not actually attend in the fall. The collaborative work resulted in doing things differently to create a better system for the kids in our community. Read more  | Also read
June 
Eastside Pathways in association with the Bellevue School District, City of Bellevue, and Leadership Eastside, organized the first Eastside Racial Equity Summit to bring together organizations across East King County to align existing equity initiatives, deepen individual understanding and commitment to the work, and to set forth a common regional goal towards a more equitable Eastside. The summit was attended by 110 individuals from 40 organizations, and facilitated by Courtlandt Butts from the Pacific Educational Group. Read more
The Eastside Pathways Promotores project worked with eight bilingual Latino community members to identify and address opportunities and needs within the community through grass roots community outreach and engagement. A survey report was presented to the community. Read more  | Also read
July
The Summer and Extended Learning Collaborative of Eastside Pathways organized a Summer Learning Field Trip. The objective was to engage leaders in the Bellevue community and give them an idea of the richness of offerings in the summer learning programs space. The members of the group, which included Dr. Ivan Duran, Superintendent of the Bellevue School District, appreciated the opportunity to know more about the richness of summer programs provided many organizations on the Eastside. Read more
September
September is a critical month for students and parents with the beginning of a new school year. The Attendance collaborative joined organizations and the wider community to drive the annual Attendance Awareness campaign and spread the word of the importance of regular school attendance. Read more
December
"Pizza with a Purpose", the brainchild of the Career Pathways collaborative, offered students of color from Interlake High School the opportunity to have lunch and interact with mentors from different fields to learn about career options and opportunities. Read more