21 Nov

Discovering the Voice of the Latino Community on the Eastside

Eastside Pathways works to support every child from cradle to career and give youth opportunities and resources to find success. Drawing on community partners with similar missions and purposes, Eastside Pathways amplifies each organization's individual effect through collective impact, which now extends to a new model: working with community "promotores."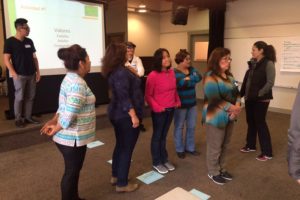 What exactly is a promotor? Adapted from Spanish, promotores (pronounced pro-mo-TOR-es) are trusted members of their communities who provide outreach, information, and education to families and individuals in their communities. They are community members who receive culturally relevant training in their primary language, learning skills to be leaders to help enhance the community's knowledge, understanding, and connectivity to services, programs, and resources. With the appropriate resources, training, and support, the promotores elevate the health of their own communities and the success of all children birth through career by linking neighbors and families to needed services and education. They work to make services more accessible and mobilize their communities to create alignment between systems, service providers, and communities. (Promotores(as) Access to Our Communities-A workshop for New and Emerging Promotor(s) Programs. Western Migrant Stream Forum-2004-2011)
Over the past few years, several Eastside Pathways collaboratives have identified the need for more authentic engagement with the Hispanic community. When the School Readiness collaborative heard about the Promotores & Liaison model that was being used in other parts of King County, they invited SOAR to present to the collaborative so they could learn more about the model. After the presentation, several partners agreed that this model would enable our collaboratives to achieve our goals of outreach to all communities, specifically the Hispanic community.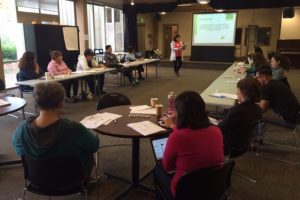 In September, Eastside Pathways decided to bring this model to Bellevue to support the life and health of Bellevue's youth and families. It began with gauging interest in the community to create a Bellevue corps of promotores. As a member of minority (immigrant/refugee) and underserved populations, promotores are in a unique position to build on strengths and to work together with Eastside Pathways partner organizations to support the partnership's mission and address unmet social and health needs in their own community. In October, eight Hispanic community members, who are Bellevue residents, were selected for training and certification as promotores. They have been preparing to conduct a community-wide assessment of the Bellevue, Redmond, and Kirkland Hispanic/Latino community throughout November and December.  The results of this assessment will be shared with the community in early 2017.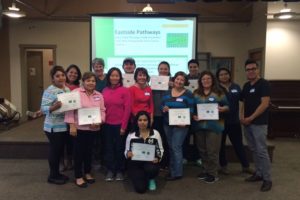 The eight promotores are directly involved in the community either as Bellevue School District parents, Highland Village residents, and/or involved with Jubilee REACH or City of Bellevue Wrap Around Services. After completing a two-hour orientation and 14 hours of training, the promotores reflected on their experience with this new model. They have been overwhelmingly positive about the opportunity both for their own personal growth and for the future impact on their community. Paulo Perez Medina, one of two male promotores, shared that "all parts of the training will help me do my job as a Promotor, especially recognizing myself as a leader and the focus on the community."
The promotores are being supported by a core team made up of Eastside Pathways partners, staff, and volunteers. The trainer and project lead is Mercedes Cordova-Hakim. Mercedes is an experienced and passionate community organizer, educator, and advocate for marginalized communities. She has been developing and promoting the promotores model for more than 30 years in Mexico, California, and throughout King County. Up until mid-October, she was the SOAR Early Learning Program Manager, where she oversaw multiple community-driven projects that engaged over 50,000 families and trained over 500 community promotores. Cathy Habib, Eastside Pathways lead facilitator, is providing the logistical and directional support on behalf of Eastside Pathways and partners. Each promotor has been paired with a mentor: Cecilia Martinez Vasquez (City of Bellevue), Edilberto Flores (Jubilee Reach), Nahyeli Mendivil (Eastside Pathways), and Alma Gonzalez (Eastside Latino Leadership Forum). The mentors have participated in all of the trainings alongside the promotores and are working collaboratively to support the implementation of this model. Another key element of the model is that the Promotores are each paid a stipend for their work. Bellevue Schools Foundation, the Bellevue Family YMCA, and the Eastside Pathways backbone are contributing towards these stipends.
By linking organizations, partners, and leaders to community members who serve as promotores, Eastside Pathways hopes to create a large-scale impact through small differences—one child, one adult, and one community at a time.
Article written by Kate Chen, social media intern, Cathy Habib and Nahyeli Mendivil, staff at Eastside Pathways