04 Sep

September is Attendance Awareness Month!

As the 2017 school year begins in the Bellevue School District, there is a critical message being communicated to the community – "Right Place. Right Time. Ready to Learn!"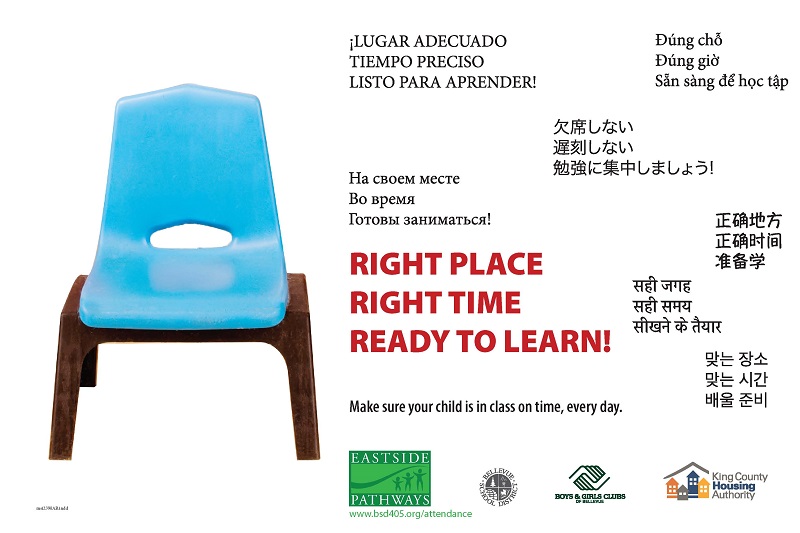 The importance of regular attendance at school cannot be emphasized enough. Regular attendance at school is critical to the overall development of children – not only academically but also in developing social-emotional skills – and helping them do well in school and eventually in the workplace.
As early as elementary school, students who miss just two days a month are more likely to fall behind and less likely to graduate high school. Read more data here.
The annual Attendance Awareness campaign is a concentrated effort by the community – organizations, parents, child-caregivers, and schools – who are rallying around to spread the word by putting up posters, banners, and sharing tips and resources to help drive regular attendance for all our children.
Eastside Pathways would like to acknowledge and thank the many organizations and individuals who have worked tirelessly together to develop and support the Attendance campaign:
The City of Bellevue for their tremendous effort and support in designing and printing the posters and banners. Banners were printed for each of the school district's schools to display as well as to hang in the three overpasses in Bellevue.
Bellevue School District and Lake Washington School District who supported the effort by getting the message out and printing posters that were hung in schools and other places.
The members of the Attendance Collaborative of Eastside Pathways who have been outstanding in spreading awareness about the importance of attendance and being in school every day. In particular, King County Housing Authority, an Eastside Pathways Partner who has been leading the effort (county-wide) to increase awareness about the issue.
Eastside Pathways Staff and Volunteers who have been going around Bellevue putting up posters on community boards and stores.
Tully's at Clyde Hill for generously giving us a table space to create more awareness about attendance.
KidsQuest Children's Museum and Bellevue Family YMCA, both partners of Eastside Pathways, for putting up the Attendance banner on their premises.
And all our partner organizations and other local businesses who have put up attendance posters.
Resources
To know more about why Attendance is important, visit the website of Attendance Works, a national and state initiative that promotes awareness of the important role that school attendance plays in achieving academic success starting with school entry.  Their website offers informative articles and data as well as resources on how to reduce absenteeism.
The PSESD has a good Attendance Awareness Communications Toolkit. There are key messages for families, and also messages specifically for sectors including Healthcare, Early Learning, Businesses, Government and Out of School Time.
OSPI has new communication materials available. These include rack cards that have been translated into 14 languages. They also have a social media toolkit that includes materials in partnership with the Seattle Sounders, such as new video PSAs with the Sounder's Henry Wingo, Superintendent Reykdal, and Governor Inslee.