07 Feb

Thank You For The Work You Do!

More than 50 individuals from 28 partner organizations gathered for the first All-Partner Meeting of 2018. It was a full morning of connecting, listening, learning and sharing, and looking forward to a new year of working collectively to make systems change on the Eastside.

Patti Skelton-McGougan, Executive Director of Youth Eastside Services, welcomed the gathering with the words: "2018 is a new beginning, and we are refreshed and excited about the opportunities to collaborate as we go forward."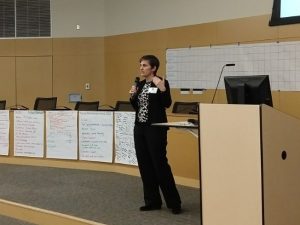 The session kicked off with Elizabeth Whitford, CEO of School's Out Washington, presenting the Best Start for Kids: Landscape Analysis which assessed the currently available programs and needs in King County, focusing on what is available for kids in this community and the barriers to kids accessing these services.
In her presentation, Elizabeth shared data and some of the qualitative findings and recommendation that have emerged from the study.
Some data around the imperative need for Out-of-School Time programs
290,000 school age children in King County

54% are kids of color
24% qualify for free and reduced lunch
13% are transitional bilingual

The most common program types available for youth are mentoring and homework help, concentrated in 6th to 8th grade. However, many interviewees expressed a lack of quality programs tailored for middle school students.
Qualitative findings

Most common system gap – transportation (moving kids to opportunities)
Space is critical system need, struggle for programs to find spaces to work with kids
System need for partnering with schools and each other to work with kids
Mental health needs for children at all income levels
Culturally relevant community-based programs, multiple languages, and events that cater to home cultures of all children

Some of the recommendations

Transportation and space support – meet kids where they are
Smoothing and streamlining funding – funders work together to have similar forms and streamline resources
Community vision and strategy for providers – connect individual programs to overall context of a child's day and building fabric of support circuits
She also shared the link to the interactive online map that was created as part of King County OST Landscape Scan.
Going forward, she stated that there was a need for a more comprehensive qualitative assessment of youth and family perspectives on key issues. She encouraged the audience to put their program information into the online program Youth Program Registry as that would allow for more accurate data collection.
With the voting for the Levies due on February 18, the audience heard from Melissa deVita, Deputy Superintendent – Financial Services & Operations at Bellevue School District and Dr. Traci Pierce, superintendent of Lake Washington School District (LWSD), about the importance of levies in funding education on the Eastside.
The purpose of the levies, explained Melissa, is it allow us to create opportunities for students and additionally allows kids to explore other areas of interests such as technology, sports, art, music programs, that go beyond the requirements of the school district. She said that levies provide local customization of education programs and if they don't pass, it impacts the education system at some level as they constitute 25% of ongoing operations budget.
The levies on voting for the Bellevue School District are Education and Operations levy; Capital and Technology levy, and the School Bus levy. More information.
In her presentation, Traci informed the partners that local levies and bonds fund needs not included as part of the state-funded program of basic education. She shared that LWSD is the third largest district in Washington State with 52 schools serving 29,572 students and that between 2010 and 2017, enrollment grew at an average of 700 students per year. Thus there is a critical need for building more schools and adding infrastructure and that the new bond will help add space for 2,100 students.
The bonds and levies on voting for Lake Washington School District are Replacement Educational Programs & Operations Levy: Funding for staff, programs, operations and courses, Replacement Capital Projects Levy: Funding for technology and facilities needs, and Bond to Reduce Overcrowding and Enhance Learning Environments: Funding for new schools and classrooms needed to address growing student enrollment. More information.
Following the presentations, Stephanie Cherrington, Eastside Pathways Executive Director, urged the partners to vote. "I hope that you will all encourage friends and family to get out and vote. It's really important to communicate to your constituencies the importance of voting for levies," she said.
Next on the agenda was a mapping exercise in which Stephanie asked partners to map their programs to the Eastside Partnership goal areas. "One of the key tenants of collective impact is a set of common, agreed upon goals. Understanding the goal areas of the Partnership and how their organization's programs align with them is an important part of our common work," explained Stephanie.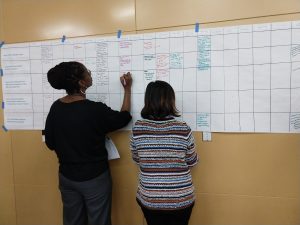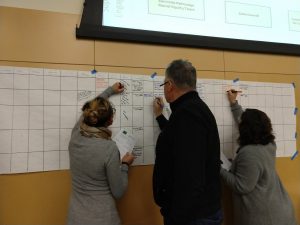 Later, speaking to partners, the general consensus was that the mapping exercise was useful in understanding how their programs aligned with the goal areas. This will be an ongoing exercise as Eastside Pathways reaches out to all its 68 partners. The complete exercise will be shared with the partners later in the year.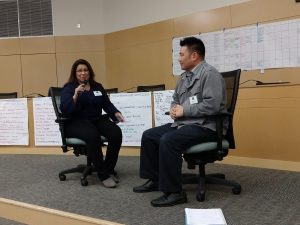 Next, Mark Manuel, Diversity Outreach and Engagement Administrator at the City of Bellevue had a dialogue with Alma Gonzalez about the newly launched NISO Promotores Program of which she is the principal and director. Alma expressed her gratitude to the community for helping her develop the mission, vision, and set of services that NISO will now offer to the community. "Our vision is to create opportunities to promote self-development and stronger, vibrant, diverse communities through the use of the Promotores model, "she said.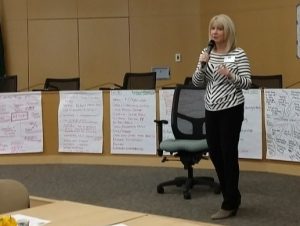 The meeting concluded with Patti expressing her appreciation of the work of the partners and of Eastside Pathways:
"Thank you for the work you do. I'm happy to be a part of that and of the future as it continues to grow. Working collaboratively in the community is truly our way of giving kids what they need to succeed so that they can go on to graduate and be healthy productive citizens. And that's what Eastside Pathways, the backbone entity, does so well in getting us together to work better. Because we all know each other now. Today I can pick up the phone and call Judy [Buckmaster] at BSD and get things done quicker. I appreciate those relationships, and that's what we need to work on as well when we come together three times a year at these meetings."
Next meetings:
Our next All-Partner Meeting is on Friday, May 18, 9 – 11 a.m. at Lake Washington School District, 16250 NE 74th St, Redmond, WA 98052. Register here
We have an Eastside Pathways 101 on Thursday, April 19, 9 – 10:30 a.m. at the Boys and Girls Club – Main Club, 209 100th Avenue NE, Bellevue, WA 98004. Please share with your board and staff (current and new) whom you believe would benefit and/or with any new organization you think would be interested in joining the Partnership. Register here.