05 Dec

Teen Perspective: Internships

This fall, Eastside Pathways has hosted a student intern from the Big Picture School. Sophomore Oliver Tjalve has been working with Data Officer Kelly Jones on Thursdays from 8 a.m. to 3 p.m.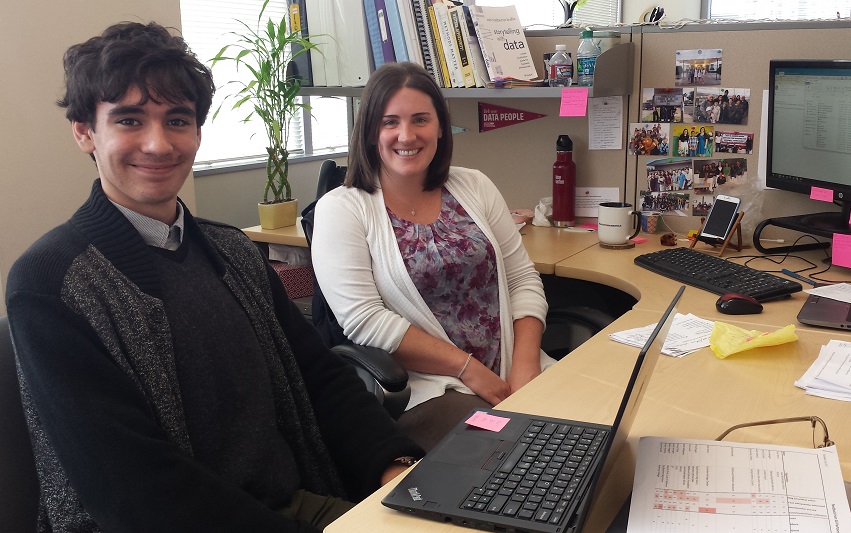 Oliver and Kelly would like to share their experience—which, spoiler alert, has been overwhelmingly positive—in hopes that other people and organizations will consider hosting a Big Picture intern in the future.
The Student Perspective
By Oliver Tjalve
I do a lot of thinking about my future. Recently, these dreams have become more realistic and specific. My school has a unique internship program, which has helped shape my understanding of work, and what I want to do in the future. It also has empowered me, by letting me do meaningful and important things.
For those of you who are not familiar, Big Picture is a public school in Bellevue serving grades 6 through 12. Once a week, high school students go to an internship for the day rather than classes. The teens can go anywhere where they can find a mentor to teach them.  I am currently a sophomore and have had two internships.
For this last school semester, I have worked at Eastside Pathways, and it has been a tremendous experience. To anyone considering mentoring a teen intern, I want to say that it really makes all the difference in the world.
Benefits
Like most teenagers, I didn't have any idea what I wanted to do.  I liked math and science, and that was all I knew. Working at Eastside Pathways, I now have a clear understanding what data looks like, how it is used, and all the potential it has. Plus, when college comes around, work experience will be invaluable in applications; especially with excellent references like mentors.
I can also take pride in doing meaningful work. At Eastside Pathways, I helped Kelly look at data about children and their struggles. I helped to compare different minority groups to identify inequities. I even got to write a newsletter article that went to the partners about surprisingly low vaccination rates on the Eastside. Most people start getting work experience in their 20s, which makes this early start so profound.
This is fun! Like anyone else, my motivation for class assignments can wax and wane. Yet I am always motivated and excited to go to my internship every Thursday. Helping to build a Tableau dashboard, and then write an article about it is not easy. It is definitely more work than the typical high school paper. Yet it is more enjoyable for me because the topic is important.
This is personalized learning as well. Kelly is very knowledgeable and has been able to teach me a lot about the field. Instead of just writing, I've learned writing about data. Instead of just math, I've learned about statistics and specifically using Excel or Tableau to work with data. Instead of just learning about history, I learn the specific inequities and struggles people face.
Challenges
The internship process is not perfect. There are some downsides to it. Most notably, transportation is difficult. I am 15, so I cannot legally drive myself yet, and I'm not as familiar as I'd like to be with buses. I'm rather lucky that my mom has a flexible schedule and is generous enough to drive me, but with all the off-site meetings Eastside Pathways has it can be difficult to get around.
Again, I am only 15, which in terms of confidence can make it difficult to take initiative. Speaking to any adult can make me a bit nervous, as well as not being familiar with all the concepts people in the field know. The only fix for that is really experience and practice, and Kelly has done an excellent job of gently nudging me to learn more.
Call to Action
As a note to potential mentors, I just want to say that teens are capable. The primary barrier for us in anything is a lack of motivation. A meaningful internship where you get to work on what you're passionate about completely removes that barrier. We may get confused about how something works or not understand some professional etiquette. Yet we can learn and make a difference in the workplace for the better. I encourage you to take on interns. It benefits all involved parties.
Mentor Perspective
By Kelly Jones
Working with Oliver as an intern this fall has been an absolute delight. It has also pushed the work of Eastside Pathways forward, both in actual work done and in looking at structures and processes that help students explore careers.
Benefits
Youth Voice: Our backbone staff rarely gets to hear directly from students because we are not service providers. Having a teen in the office each week reminds us why we do this work and gives us access to real-time feedback from the teen perspective.
External Eye: Oliver asks the questions that don't occur to those of us who are steeped in the work. He provides a useful set of fresh eyes to gauge when our messaging is too jargon-heavy and when more context is needed for external audiences.
Additional Work Done: Let me be blunt: Oliver gets good work done. Ideally, the internship experience results in a net reduction of work for the mentor because the student accomplishes a range of tasks. That has been true in my case. Oliver is a fast learner and has run with each project—and folks, he's one of many students available to intern for YOU in the spring!
Living Our Values: One of the goals of Eastside Pathways is for every young adult to connect with a career of their choice. Hosting an intern is a way to put our money (or, let's be real, our time) where our mouth is and help the next generation explore careers and start to narrow down to the best opportunities from their wide-open future.
Thought Partner: The Eastside Pathways backbone staff is small, busy, and mobile. Much of my work is done in isolation either at home or at the office. Shifting to a schedule where I know I have a thought partner for a full day each week has baked collaboration into my work structure.
Time with Students: I used to be a teacher and miss working directly with kiddos. What a treat, to get this one-on-one time with a young person.
Challenges
Transportation: Getting around is a team effort. My meetings happen all over the Eastside, sometimes far from metro bus lines, and I am not allowed to drive Oliver unless there is another adult in the car. (Initially, I was not allowed to drive him at all until being approved by the Bellevue School District as an authorized driver.) Oliver and I also took the bus together to a meeting once. The highlight for me was getting to ask him, "Are we there yet?" at every stop, since he was responsible for navigating our trip. There's no harm in having a little fun with your intern.
Defining Projects: It takes time to carve off discrete projects that are accessible, meaningful, and interesting that also further progress on key priorities. As an example, doing student-level data analysis would be a great experience for Oliver but would violate the terms of my data sharing agreements, so instead we worked on projects with publicly-available aggregate data.
Meeting Schedules: Some meetings that happen on Thursdays are not the most engaging experiences for an intern (ex: staff meetings), while others which would be great are scheduled on different days (ex: Data Council, most collaboratives).
Key Learnings
Remember to Ask: Inviting interns into the conversation builds their sense of confidence, competence, and engagement. It sounds obvious, but be sure to ask your intern for input frequently.
Fit Matters: The internship is known as LTI, or "Learning through Interests." I think building a dashboard from immunization data is enjoyable work, and Oliver agrees. Not everyone would. Part of career exploration is discovering which roles and fields aren't a good fit, but there should be a baseline of interest in the work at the outset.
Leverage Your Network: Students are responsible for securing internships each semester or year. Use your network to help them make connections for the future. Indeed, Oliver and I were introduced through Gwen Rousseau at the City of Bellevue, his mentor from the previous year.
Call to Action
Learn more about the LTI internship program. What would it take for YOU—or perhaps your spouse, your neighbor, or your friend—to host a high school intern at your organization? What are your reservations and how might Eastside Pathways or the Big Picture School address them?
We would love to hear from you!
Kelly Jones, Data Officer at Eastside Pathways: kelly@eastsidepathways.org
Godfrey Drake, Internship Coordinator at Big Picture: drakeg@bsd405.org
Barb Mercier, Community Partnership Coordinator & Career Specialist at Big Picture: mercierb@bsd405.org